Thoughts on the Future of Wealth Management
Written by: Charles Tan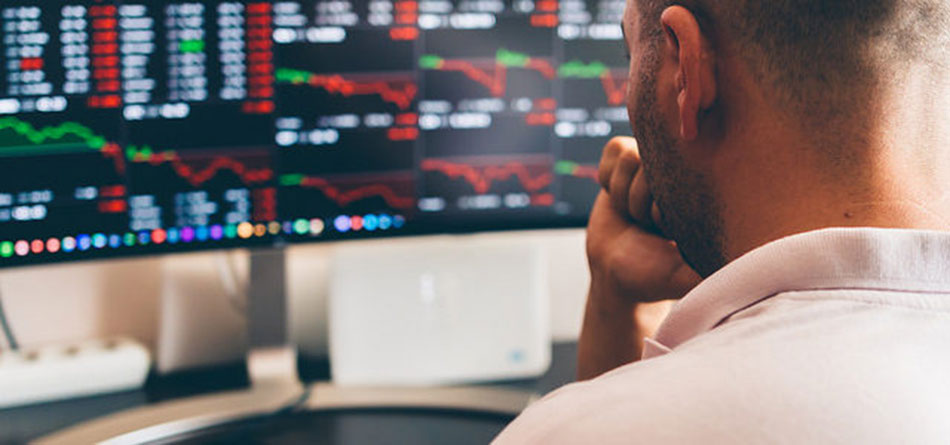 Any analysis or prognostication of trends in the Wealth Management industry would not be complete without an acknowledgement of the grim inevitability that is driving such sea change: our mortality. To take the economist Keynes' famous quote out of context – "in the long run, we are all dead" – that simple law of nature is catching up with all of us, and with it comes significant ramifications for the world of personal finance.
The fact is that perhaps the greatest wealth transfer in human history is currently under way, with rapidly aging baby boomers expected to hand over tens of trillions of dollars of accumulated wealth to their children within the next decade, and nowhere will this trend be more prominent than in the geographies of Asia and Europe, thanks to a mix of population demographics and wealth dynamics (e.g. a higher prevalence of "old money" as compared to North America).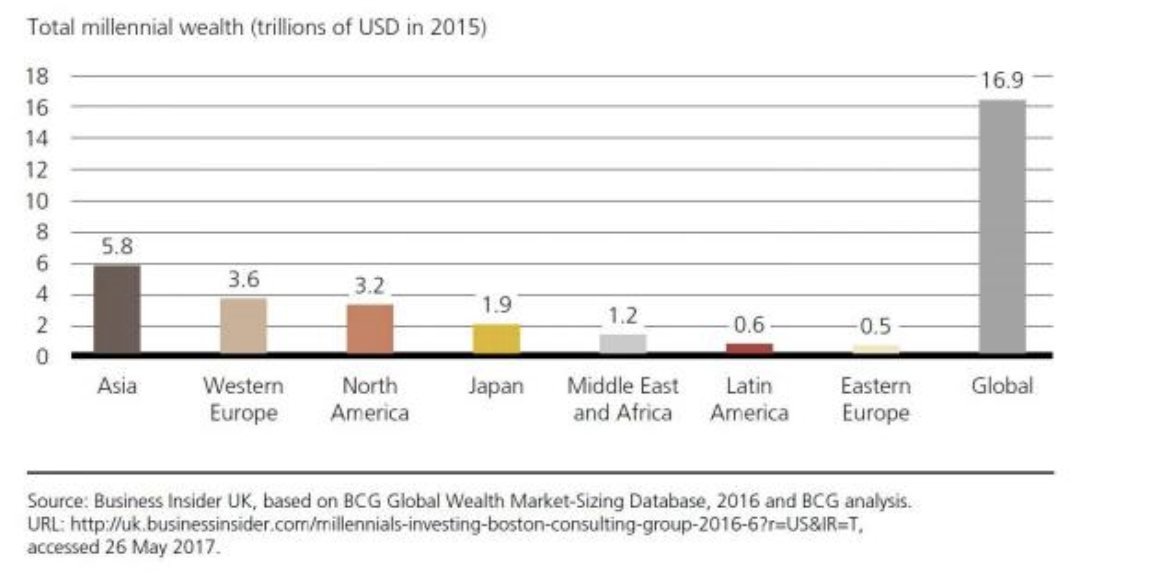 Boston Consulting Group (BCG) estimates that the wealth currently controlled by those it classifies as millennials stood at c.$17 trillion globally in 2015, and it expects this figure to more than double to over $35 trillion by 2020.
What this means for the Wealth Management industry is that it will have to adapt to the wants and needs of a younger and savvier investor class – one that demands seamless technology integration in all their interactions, who hold a different set of values (e.g. shared economy vs. exclusive control), and are more discerning than their parents on issues such as performance, fees and transparency (see below).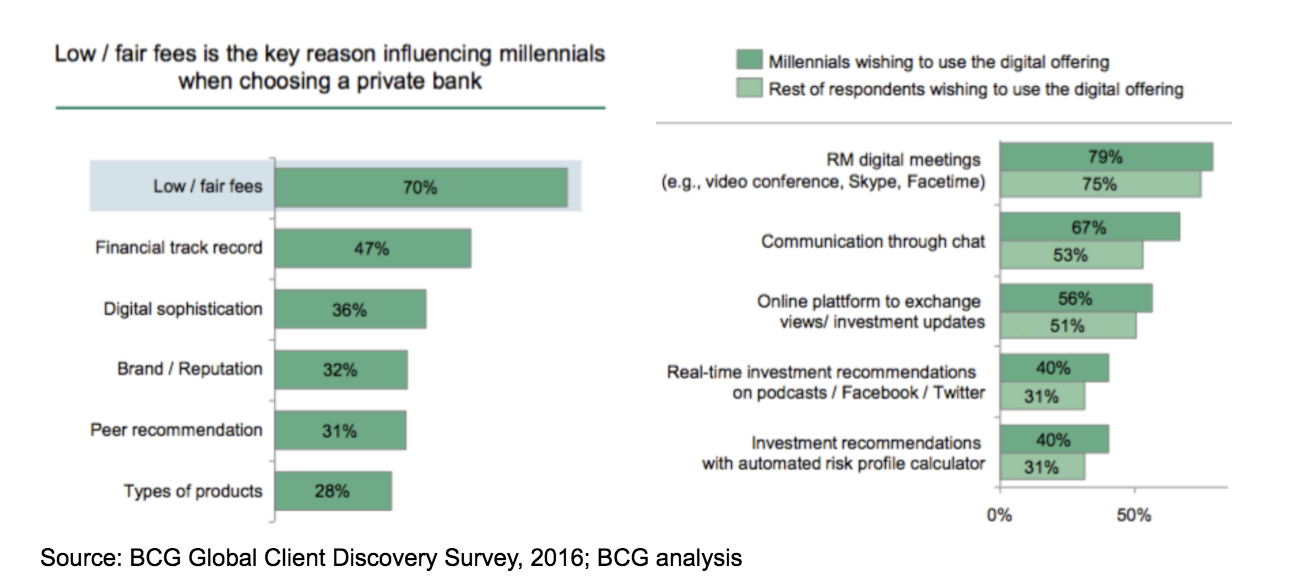 In my opinion, however, it is fanciful to extrapolate the recent rise of robo-advisors, cryptocurrencies and crowdfunding to predict the complete demise of the Wealth Management industry as we know it. Instead, I believe the overall effect of advances in WealthTech will be to increase competition, lower fees, promote efficiency and eliminate complacency. All of this should force incumbents to ensure they deliver true value to their clients, rather than engage in the industry equivalent of rent-seeking behaviour – much in the same way that Uber and Airbnb have done for the transportation and hospitality industry respectively.
However, unlike Uber and Airbnb, I do not think the future of wealth management lies with a single "killer app" or platform. Indeed, the best start-ups will likely be acquired by and assimilated into the industry incumbents, as start-ups seek the fastest way to scale up and reach profitability while incumbents invest heavily to not get left behind (e.g. Blackrock, the world's largest asset manager with $5.7 trillion AUM, acquired robo-advisory firm FutureAdvisor which had $600m AUM for a reported $150m in 2015).
Many tech founders are idealists who will list democratisation, disintermediation and disruption as their key goals without knowing what they really mean, or how the market actually operates. But those who have worked in (and therefore understand) the financial markets should realise that institutions and intermediaries must be part of the solution, rather than being cast as the root of the problem.
Ultimately, it is still the fund managers and traders who have been entrusted with pooled retail capital (e.g. pensions, insurers, unit trusts) that drive the bulk of market liquidity off which retail punters then piggyback, and it is the advisers and agents who have earned the trust of their HNW clients over the years that facilitate transactions for these people who otherwise do not have the time and/or expertise to due diligence each investment themselves.
Furthermore, it is important to note that unlike retail-driven markets (e.g. private hire cars or holiday accommodation), the Wealth Management market is naturally skewed toward a very small, niche segment – the top 1% who control half of all the wealth in the world. And for the HNW investors and family offices who dominate this space, discretionary management and private off-market deals continue to hold more appeal than algorithm-based advisory services and low-cost index-tracking ETFs. In fact, trust and confidence in all aspects of the wealth management industry have rebounded to post-crisis highs, according to the recent World Wealth Report 2017 by CapGemini.
So while I suspect unregulated Initial Coin Offerings and unqualified robo-advisors will not be replacing listed equities and chartered IFAs in the foreseeable future, in my opinion, platforms like ours (Property Crowd / Prop-X), which work with existing institutions and intermediaries to provide technology-driven solutions to a HNW/Sophisticated investor audience within a familiar framework, should stand the best chance of gaining traction and eventual mainstream adoption.
In closing, the key take-away from all this is that the future of wealth management remains bright, but there is no place for complacency. The present age of technological and regulatory renaissance serves to shine a light into dark corners of the market where inefficiencies and inconvenient truths lie, and only those with nothing to hide should have nothing to fear. Wealth managers should embrace technology to enhance their service offering, improve communication and boost returns, thereby differentiating themselves from the crowd and demonstrating their value proposition. Only then, will they be able to justify not just their fees and but their very existence.
As originally published on Altfi on 03 October 2017.